Toni Ransfield is an Award Winning Polymer Clay Artist and an acknowledged Pen Maker. Her Polymer Clay art has been seen all over the world through numerous publications. Originally from the Beautiful Hudson Valley in New York State she is now residing in Alabama. She has been working with Clay since the 80's and discovered Polymer Clay in the early 90's. Polymer Clay provides her with the versatility to create a multitude of designs given the vast color palette that the clays offer.
Her inspiration comes from nature and her surroundings. Millefiori, which is an ancient glass technique, meaning "one thousand flowers", is her true passion. Making large canes with a pattern that can be seen throughout the whole cane and then applied in slices to create a beautiful array of patterns in clay.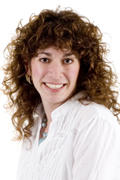 Below are some of her polymer clay related accomplishments:
* Won second place in the Bead Arts Award by Bead and Button Magazine , 2007 for Design in Beads.
* Showcased in the Journal in December 2004 for my small internet business making polymer clay eggs which sold all over the world. Privately commissioned to create a Giant Golden Emu Egg for Judge Judy.
* Published in Beads Etc. Magazine Issue 20 and Issue 24
* Country Heritage Magazine
* 2008 the unveiling of Toni's website Exclusivedesignz.com where she sells her hand crafted pens.
* Published in PolymerCafe Magazine 2007, April 2009 and October 2009
* Nails Magazine (Jan 2010) - Fimo Nail Art Competition
* Featured in Lisa Pavelka's book "The Complete Book of Polymer Clay" released 2010
* 1st Place in International Association Penturning's Casing Pen Contest 2010
* Collaboration with Alby Hall in New Zealand creating seed pods in September 2010
* Featured in Walter Hall's book "Pen & Pencil Projects" released in 2011
* Accepted into the Pen Makers Guild February 2011
* Featured in an article written by Kurt Hertzog in Woodturning Design Magazine June 2013 Issue #43, The Journey from Penturning to Pen Making
* A key demonstrator at MAPG in Virginia 2013
* Demonstrator at The American Association of Woodturners in Atlanta, Georgia in June 2016
She has also won several other contests as well as teaching in New Jersey, New York, Connecticut, Tennessee, Georgia and New Zealand.
Toni takes great pride in her work and each and every piece is unique and one of a kind. It is her hope that you will love her art as much as she loves creating it for you. Should you have ANY questions please feel free to contact us at Classic Nib. Toni will be glad to answer your concerns as well as special requests.